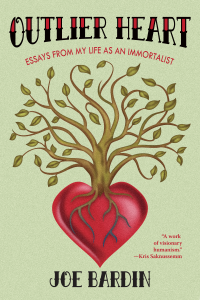 Tattoo procrastination time can pass more quickly than you think. It seems like just a few years ago when I came up with this great idea for a tattoo with a Tree of Life growing out of a heart, and the banner Outlier Heart, which is the title of an essay of mine. I haven't had the chance to get my arm inked just yet. (When I even bring up the subject of the tattoo to Bernie, she just says "whatever," but she'll see …)
But when I started working with Portland-based artist Gigi Little on the cover for my essay collection, Outlier Heart, to be published in a couple weeks by IFERS Press, I knew what I wanted — it was that tattoo idea.
I brought the concept to Gigi and she has been artful and diligent in bringing it into being, at least as a book cover. She also writes detailed emails to make her thought process and my choices very clear to both of us. The original tattoo, in my mind that is, is not exactly the one you see here. Along the way, we made some significant changes in the overall shape of the image, from circular to more vertical, and that banner went away,  but I quite like where we've ended up.
It's much easier to make revisions in the digital than in the fleshly, people. Which I think is a validation of my approach to getting tattooed. 1. Have the idea for the tattoo. 2. Don't get it. 3. Write and publish several nonfiction essays, many highly personal. 4. Find a publisher for the collection. 5. Create the book cover using your tattoo idea. 6. Then get the tattoo. Makes sense to me.
You can order Outlier Heart here: